When we think about holidays, we usually think about spending quality time with our friends and family. The holiday season also means that you will get a couple of days off work, with the kids also on their festive break from school.
Moving Companies On Holidays?
For many families, having everyone at home and available usually means a perfect time to start packing and moving.

The moving industry is growing and developing like never before. More and more moving companies are looking for new ways to offer the best possible solution for their clients. For some of them, that means being available even during the holiday season.

As a professional moving company with years of experience, we completely understand that it can be easier and more convenient for some people to move during the holidays. It's practical for many families as their usual work-school routine won't be disrupted.

Let's discover if and how movers work on holidays.
Do moving companies work on holidays?
You can contact several moving companies and ask them about their holiday schedule, work time, and moving estimates. You must be careful and do your research before scheduling the final moving date. Make sure you choose the best moving company for your personal needs and demands.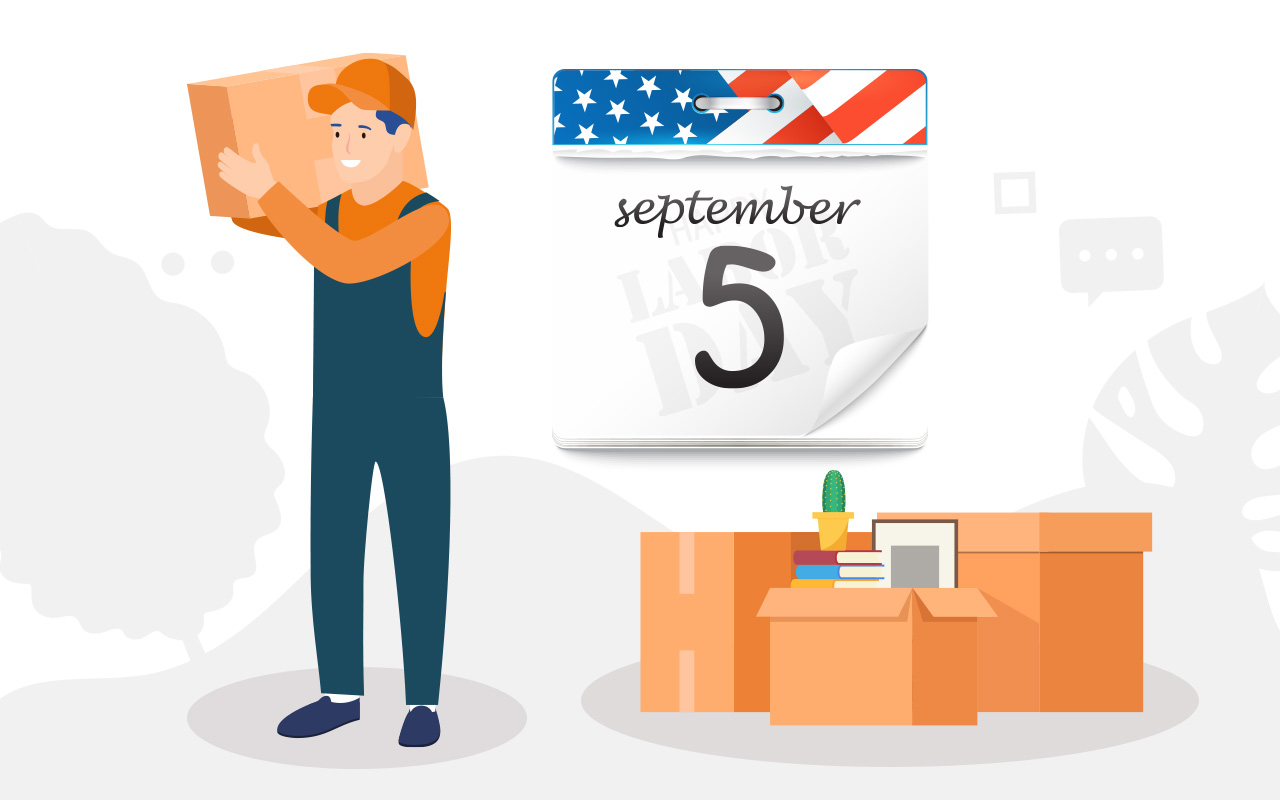 Typically, moving companies don't work on major holidays. However, the good news is that you still can find certain moving companies that remain open and operative even during holidays. We are lucky to inform you that we are one of them!
Zip Moving & Storage remains operative during the following major holidays:
New Year's Day, January 1

– Although we work on January 1st, our capacity is a bit limited, so we strongly advise you to book your move at least a month in advance. 

Martin Luther King's Birthday

– We remain fully operative and open on this special day. However, you should schedule your move at least 3-4 weeks in advance.

Washington's Birthday

– We remain fully operative; however, we suggest booking our movers several weeks earlier.

Memorial Day

–

We recommend scheduling your move at least 4- 6  weeks ahead of this holiday, and that way, you will secure your

Memorial day movers

. It is the beginning of the moving season, and you should be aware of that. 

Juneteenth National Independence Day

– This holiday falls at the peak of the moving season. We strongly advise booking in advance.

Independence Day

– The 4th of July can be extremely difficult to book; many people decide to move at that time, so you should reserve your moving spot as soon as you find out that you need to relocate. If you do that on time, finding

movers on Independence day

will be an easy task for us. 

Labor Day

– The same goes for Labor day, which falls on the 1st Monday of September. Please contact us on time and let our

Labour Day movers

do the job for you!

Columbus Da

y – A lot of people still move during the entire month of October, so once again, even for this date, you should book in advance.

 Veterans' Day

– For this date, you typically shouldn't have any problems when it comes to scheduling your move 

Thanksgiving Day

–

Movers for Thanksgiving

are hard to find. However, if you give us a call at least a month in advance, you should be able to find a spot with us!

Christmas Day

– We work in a limited capacity on Christmas day and strongly advise you to schedule your move as early as possible so that our

Christmas day movers

can come to your home on time.
If you decide that moving during the holidays works for you, we are here to back you up and help you every step of the way. Still, there are certain things you should be aware of before scheduling your holiday relocation. Keep reading to learn more!
Planning any relocation is time-consuming and requires a lot of energy and good communication. Our experienced moving consultants always recommend planning your move several weeks or months ahead, which is especially important when it comes to the holiday season.

The earlier you schedule the move, the better for everyone involved in the entire moving process. Your apartment building may need special notice to facilitate your move during the holidays. Check with them in advance to see if you have everything that you need for your move.

Details like that can play a significant role when moving, so it's always better to deal with them in time and schedule your move as soon as possible.
The festive season usually means busy times and more traffic. That's why holiday relocation requires smart and careful organization. 

You should start by searching for a reputable and trustworthy moving company that operates even during the holidays. The next step would be to speak with their moving consultant and discuss all the details of your upcoming move.

We recommend creating an inventory list and printing moving labels for your boxes so that you know the contents of every package and where they need to go. This will make your entire packing and unpacking process much faster and more enjoyable.

If you decide to pack items without the help of professional packers, it can be a good idea to get some quality moving supplies. It's best to finish packing two days before your moving day. That way, you will have enough time to go room by room again, check all the items from your inventory list, and make sure that you didn't forget something.
3. Be prepared for some delays
New Year's Eve, Christmas, Labor Day, Memorial Day, and Thanksgiving are some of the most important and popular holidays. Naturally, traffic on those holidays can be a real nightmare sometimes, so expect some delays and big crowds.

If you are moving in the wintertime, traffic problems are also common due to the snow, rain, and other harsh weather conditions.
4. Don't forget to complete your moving documentation
Changing your address and other moving documentation can take longer than usual during the holidays. Some public institutions can be closed over the holidays as well. We advise taking care of all those administrative tasks before your move date.
Is moving during the holidays more expensive?
We can not deny that moving is an expensive endeavor. That's why we always strive to be the best and offer our customers affordable and reasonable prices.

That being said, if you decide to move during the holidays, be prepared to spend more on your relocation expenses. If you want to save up some money during your move, we suggest that you move during the winter or fall months, and certainly not during the peak of the moving season, which typically falls in summer.

Also, some moving companies usually increase their rates to compensate their movers who have to work on holidays. In order to keep your costs in check and know how much money you will need to spend on your move, we recommend using a moving cost calculator and creating a detailed inventory list.
A happy move means happy holidays!
With good organization, careful planning, and professional movers, every relocation can be happy and successful. For us, the time of the year doesn't matter; we will always strive to provide only the best moving services for all our customers.

Suppose your favorite moving company is closed during the holidays, and you still need to move as fast as possible; we recommend researching other companies near you to organize moving supplies and equipment to be dropped off early before the company closes.

Or you can turn to some other moving company that is operative like we are, even during the holidays, and leave everything to professionals! 

There is something incredibly special about moving during holidays. Imagine settling into your new dream home with your loved ones, decorating your interiors, and watching the snow fall while tucked into your new, comfy living room…