Relocating to a new home can be an exciting adventure! We all need a fresh start and something new in our lives to keep us focused and happy.
The Best Way to Unpack After Moving
However, it's not all rainbows and unicorns. The reality is that the moving process is also quite overwhelming for many people. The unpacking and settling are more often than not exhausting and tiring. 
That's why knowing the best way to unpack after moving can help make the transition smoother and less stressful for everyone. Luckily, as someone working for a professional moving company for quite some time now, I'm happy to share some useful tips and tricks to help you unpack with ease.
Without further ado, let's discuss some tips and tricks for unpacking after a move.
Many customers put their energy and focus primarily on the packing process. We understand that moving is tiring and you will have to think about many different things, but it's important to plan ahead. The same goes for unpacking. Planning your unpacking will save time, money, and yourself from headaches. Following these easy steps will make your unpacking process much faster and easier.
With the right approach and mindset, unpacking doesn't have to be difficult. Before you begin unpacking, take some time to create a proper plan. Write down the most important things and focus on prioritizing which rooms you want to unpack first. After that, you can make a list of essential items you'll need right away and decide how you want to organize your belongings. Also, it can be a good idea to make a plan of where you want to put everything.
Prioritize the essentials
Start by immediately unpacking the items you need, such as toiletries, clothes, and kitchen supplies. This will help you settle into your new home more quickly. It will also help you stay organized and avoid having to move items around multiple times.
Start with unpacking your bathroom box
You probably didn't expect to start unpacking the bathroom box, but trust us when we say that you will need all your toiletries and medication on hand. At the end of the day, when packing is finally done, you will want to take a long and hot shower, and then the unpacking of all bathroom necessities will make much more sense. This will help you feel more settled in your new home and give you a sense of accomplishment.
Next stop - bedroom boxes
As we previously stated, moving is often quite tiring. Chances are that you will feel truly exhausted after everything is finished, and you will probably want to throw yourself into bed and just fall asleep. Once you (or your movers) get the mattress into place, it's good to start unpacking your bedroom boxes.
Take breaks and stay hydrated
Unpacking can be a tiring and intense process, so it's important to take breaks as needed. This can include taking a walk outside, doing some light stretching, or even just sitting down and having a snack. We also recommend drinking a lot of water or other fluids. It's important to stay focused and energized. You can easily get overwhelmed with so many different moving tasks, but you should always prioritize yourself and your well-being.
Break down boxes as you go
Remember to crumple the paper and place it in the box as you unpack boxes. This is a very handy hack. Break down the moving boxes as soon as you empty them out. That way, you are unpacking and tidying at the same time. Go room by room, and don't start with another space before you finish the area you already started to unpack.
Leave the kitchen box for the end
The kitchen usually has a lot of small and tiny items like dishes, silverware, and fragile objects. This means that unpacking your kitchen box will probably take most of your time and will last the longest, so be prepared for it. Our advice would be to save your valuable energy for other more important rooms in your new house and then do the kitchen. You can even leave it for tomorrow if you are feeling too tired.
We are entering very dangerous territory here now. The urge to unpack your favorite things can be incredibly hard to resist, but keep in mind that if you unpack TV right away, you may find yourself sitting comfortably on the couch, not really taking care of your other unpacked items. I think you will agree that is not a great scenario when it comes to the unpacking process.
Ask a friend for help, or turn to professionals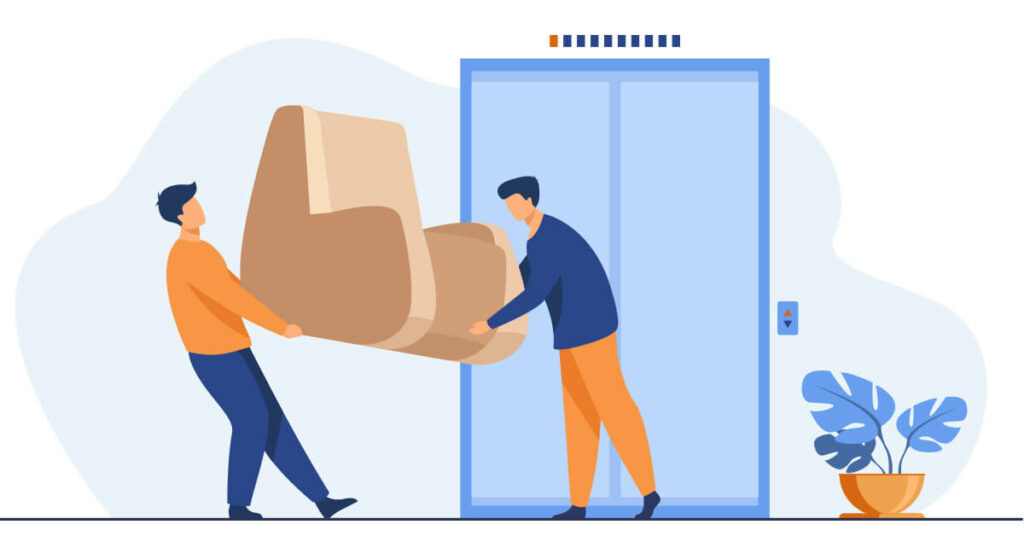 Sometimes, it's best to leave everything to professionals. Experienced and skilled movers can handle all aspects of your move, from packing and loading to transportation and unloading. They have the skills and expertise necessary to ensure your belongings are handled safely and efficiently throughout the moving process.

Professional movers know how to carefully pack fragile and valuable items, making it easier for you to unpack them at your new home. Overall, professional movers bring a high level of skill and professionalism to every move, and it can be a good idea to contact them and get proper help.

Another great thing that comes with having professional movers at your beck and call is that the majority of reputable moving companies offer various types of insurance to protect your belongings during the move. You may want to consider purchasing full-value protection or third-party insurance for additional protection. It's necessary to mention that insurance coverage and costs can vary widely between different moving companies.

However, if you decide to relocate without the assistance of a professional moving company, we completely understand you and are here to help you. We recommend asking your friend and family members to help in such situations. It will be easier and faster with them. You can start unpacking the bathroom and leave your friend to unpack items for the living room. Of course, this is just an example, you can organize your unpacking process in different ways as well.
Unpacking doesn't have to be difficult - it's all matter of perspective
Unpacking can be challenging, but try to stay positive and enjoy the process. Easier said than done, you are probably thinking! Keep in mind that unpacking will be faster and easier if you plan in advance and pack everything in suitable moving boxes that are properly labeled. Labeling boxes and containers can help you quickly identify the contents and streamline the unpacking process. Wonder how to label them? We have just the right thing for you; click here! 

The unpacking process is a unique opportunity to create a new, organized living space that reflects your unique personal style and preferences. Your new home is a reflection of you, so enjoy making it as special and beautiful as possible. If you need some new ideas for decoration, we are here to help. Check out our blog about the best remodeling companies and discover some valuable tips along the way.